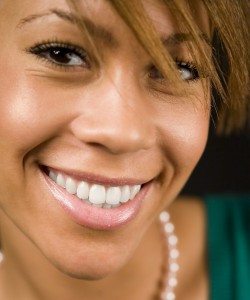 Spring is the season when we start to think about 'fresh stuff'. Fresh air, fresh flowers and fresh looks. As you're in this mindset, we would like to suggest you start thinking about freshening your smile as well. Freshening your smile involves us helping you restore your smile to its full potential, through routine care or more elective procedures such as veneers, implants or teeth whitening.
How can I freshen my smile?
A simple way to 'freshen your smile' is through teeth whitening. Years of drinking coffee, tea or soft drinks can make your teeth stained and discoloured, leaving even the healthiest of smiles a little dull. Depending on your needs and budget, teeth whitening can be completed over a number of treatments or in as little as two hours. However, before you make that kind of decision, be sure to follow the important steps below.
Your first stop should be to a dentist, to make sure that you have a healthy mouth and gums and are a good candidate for the bleaching process.  Step 2 involves a discussion between the dentist and you on your tooth whitening expectations. While whitening works in most cases, the level of success depends on what you are starting off with. For example, yellowish-hued teeth will probably bleach well, brownish-colored teeth not as well and grayish-hued teeth less well. Sometimes a different cosmetic procedure will be recommended which would better meet your expectations.
Once it is determined that whitening will work for you, the next step is to decide which method would suit you best. The most important thing to remember is that a professional teeth-whitening program issued and supervised by your dentist uses a program custom-made to your needs and is your best bet for safe treatment and long-lasting professional results. Choose immediate results with in-office whitening or consider the more economical at-home whitening program. With either program, your teeth whitening process should be monitored at each step of the way, ensuring that it is proceeding safely while watching for any sensitivity to your teeth or gums.
Do you think you are a candidate for teeth whitening?
Take the first step to whiter, brighter teeth by scheduling a smile analysis with us. We'll make sure that your smile is just as radiant as you are!